COVID-19 Resources for Businesses
Updated: March 30, 2020 - 11:45 a.m.
Support for Businesses

Business Impact Survey

St. Catharines Rapid Response Team

Business Resources

Contacts
Updates
March 31, 2020
The Ontario Government extended school and child care closures to fight spread of COVID-19. Public schools will remain closed to teachers until Friday, May 1, 2020, and to students until Monday, May 4, 2020.
Justin Trudeau has announced that the federal government is spending $2 billion to procure personal protective equipment for front-line workers. More to come.


The Ontario Government eased the financial burden on students and helped ensure they can complete their studies during the COVID-19 outbreak by temporarily deferring payments for Ontario Student Assistance Program (OSAP) loans and making online learning supports, including year-end exams, available to post-secondary institutions.


In an effort to stop the spread of #COVID19 the Ontario Government has closed all outdoor recreational amenities across province.
March 30, 2020
Niagara Health put out a call for new N95 masks, surgical masks and other protective equipment. Email foundation@niagarahealth.on.ca if you can donate. Learn more at: http://SupportNHF.com .


The Ontario government is working with businesses, volunteer organizations and non-profits to make it easier for Ontario's seniors to self-isolate and practice physical distancing during this unprecedented time by ensuring they can receive the support they need to stay safe and healthy. The government is investing $10 million to help community organizations with the coordination of subsidized deliveries of meals, medicines and other necessities to seniors.
Prime Minister Justin Trudeau announced that businesses and non-profit organizations that see at least 30 per cent decrease in revenue due to COVID-19 will qualify for the Government of Canada's 75 per cent wage subsidy program.

Number of employees doesn't matter
Non-profits and charities, big and small, are eligible
Covers up to 75 per cent on the first $58,700 earned, up to $847 per week
Back dated to March 15, 2020
More to come

Digital Main Street has a great lineup of FREE webinars coming up in April to help small business. Topics include eCommerce, web presence, customer engagement, Facebook / Instagram advertising and more. Learn more here.
March 28, 2020
Premier Doug Ford announces new penalties to combat price gouging and hold offenders accountable for raising prices significantly on the necessary goods Ontarians need to protect themselves and their families from COVID-19.


The Ontario Government has announced they are limiting gatherings to no more than 5 people. Essential business, child care facilities, and families of more than 5 people are exempt. Previously, the rule was no more than 50 people.
March 27, 2020
St. Catharines City Council approved a series of measures aimed at supporting residents and businesses with the costs of municipal taxes and services as they wrestle with the financial pressures due to the COVID-19. Some of the measures The City is offering include:

Deferring the April 30 interim tax instalment to June 30
Waiving tax penalty and interest charges until June 30
Waiving water and wastewater penalty and interest charges until June 30
Waiving accounts receivable penalty and interest charges until June 30
Waiving charges for any cheques or pre-authorized payments returned for non-sufficient funds or payments stopped by the payer
Amending the 2020 final tax levy instalment dates to July 31 and October 30
Deferring the 2020 water and wastewater increase from April 1 to July 1

Prime Minister Justin Trudeau announced additional new measures supporting small businesses dealing with the economic impacts of the pandemic to help protect jobs and pay their workers and bills during these difficult times. Part of its COVID-19 Economic Response Plan, the program includes offering qualifying small and medium businesses 75 per cent of wages to be covered, and $40,000 loans interest free, GST / HST payment deferrals until June and more. 


Ontario is providing $3.3 billion more to increase health care capacity. Funding will add more beds, testing and protective equipment for frontline workers fighting COVID-19.


FREE webinar: Digital Solutions for Small Business During COVID-19 is happening this morning at 9 a.m to 10 a.m.
Follow the link to join: https://zoom.us/j/151423457


The Ontario Government is enabling $1.9 billion in relief for employers to reduce the financial strain on business brought on by COVID-19. The measure, which will run through the Workplace Safety and Insurance Board (WSIB), will see premium payments deferred for six months for all businesses in the province.


The Government of Canada has launched a Resources for Canadian Businesses website to help Canadian businesses as COVID-19 is affecting them, their employees and their families.


Have you completed the Niagara COVID-19 Business Impact Survey yet? The survey closes Monday, March 30 at midnight.


PickUpSTC - We are working on an online directory people can go to see what's open and what services, such as take out and / or delivery, are available. Use this online form to tell us your status and details.


The Alcohol and Gaming Commission of Ontario announced a number of temporary measures to support Ontarians and businesses impacted by the spread of COVID-19, including allowing licensed restaurants and bars in Ontario to sell alcohol with food takeout and delivery orders between the hours of 9 a.m. and 11 p.m.


Next Generation Manufacturing Canada has announced $50 million in Supercluster funding to support companies as they rapidly respond to COVID-19 by building a Canadian supply of essential equipment, products, and therapeutics.


The Government of Ontario launched the Stop the Spread Business Information Line: 1.888.444.3659.


The Government of Ontario released Ontario's Action Plan: Responding to COVID-19. The $17 billion response including cutting taxes by $355 million for about 57,000 employers through a proposed temporary increase to the Employer Health Tax (EHT) exemption.


The Government of Canada established the Canada Emergency Response Benefit (CERB), which includes a taxable benefit providing $2,000 a month for up to four months for workers who lose their income as a result of the COVID-19 pandemic.
Recent Announcements
Ontario's Action Plan: Responding to COVID-19

Today, Finance Minister Rod Phillips released Ontario's Action Plan: Responding to COVID-19. The government's action plan is a first step in its response to COVID-19 and includes $7 billion in additional resources for the health care system and direct support for people and jobs.

Read more here.

Stop the Spread Business Information Hot Line Now Open

The Province of Ontario has launched a toll-free line 1-888-444-3659 to provide support to Ontario businesses who have questions about the recent emergency order to close at-risk workplaces due to COVID-19.

Read more here.

City continues to adjust programming and services 

The City of St. Catharines continues to take the COVID-19 pandemic seriously, and following the advice of provincial and federal leaders continues to make changes to services and programming.

Read more here.
Off-peak hours in place all day, every day
Alectra residential and small business customers on Time-of-Use rates will pay the off-peak rate of 10.1 cents per kWh, which is less than half of the on-peak rate (20.8 cents per kWh), at all times and for the next 45 days.
Read more here.
Ontario Closing At-Risk Workplaces to Protect Health and Safety
Due to the evolving COVID-19 situation, the Ontario government will be ordering at-risk workplaces to close-down, while encouraging businesses to explore opportunities to continue operations through work-from-home and innovative business models. Read more here.
City introduces grace period for payments to assist businesses
The City of St. Catharines is introducing a payment grace period to support residents and businesses affected by the COVID-19 pandemic. The City has also suspended payment for parking on street, and in municipal lots. The grace period for payment runs until June 30. Read more here.
---
St. Catharines Rapid Response Team
---
Support for Businesses
As businesses face unprecedented challenges from COVID 19, there are a number of actions the City, Region, Provincial and Federal Governments have taken to help ease the strain on businesses.
Municipal
City Tax Grace Period - the City Of St. Catharines has introduced a payment grace period to support residents and businesses affected by the COVID-19 pandemic. The grace period for payment – which runs until June 30 – means late fees and interest penalties will not be applied to water and tax payments, as well as accounts receivables. Water bills continue to be issued across the City as scheduled.
City Grace Period for Business Licence Payments - a temporary grace period, until further notice: no late fees will be charged for business licences. Also, no late fees for those renewing dog licences.
City Parking - Payment is not required, on a temporary basis, for on-street parking or parking in municipal lots. This is to take away numerous people touching the same parking machines throughout the day. Parking enforcement for lack of payment will also be suspended until further notice.
City Building Inspections - The City of St. Catharines is still processing and reviewing building applications and permits. New permit applications are being accepted via mail/courier. Inspection of occupied dwellings, including building permit, building complaint, property standards and other by-law inspections are suspended until April 6, pending further review.
Provincial
Ontario's Action Plan: Responding to COVID-19 - The government's action plan is a first step in its response to COVID-19 and includes $7 billion in additional resources for the health care system and direct support for people and jobs.
Ontario Together - The Ontario Government launched Ontario Together, a new website that will help businesses and their employees work together with the province to meet the challenges of COVID-19. This initiative will remove barriers allowing Ontario's manufacturing sector to redeploy capacity towards the production of essential equipment like ventilators, masks and swabs. 
Federal
NEW - Canada Emergency Response Benefit - The Canada Emergency Response Benefit replaces separate care and support benefits to simplify the process. Offers $2,000 per month to workers not getting a paycheque because of COVID-19. The CERB applies to those who are self-employed, sick, in quarantine, looking after someone, laid off, staying home to look after children, have a job but no salary. Applicants should start to receive money with 10 days. The Online portal will be available soon.

Business Credit Availability Program - Will allow the Business Development Bank of Canada (BDC) and Export Development Canada (EDC) to provide more than $10 billion of additional support, largely targeted to small and medium-sized businesses.

Work Sharing Program - offers income support to employees eligible for Employment Insurance benefits who work a temporarily reduced work week while their employer recovers.
Changes to Employment Insurance Sickness Benefits - Employment Insurance sickness benefits provide up to 15 weeks of income replacement and are available to eligible claimants who are unable to work because of illness, injury or quarantine, to allow them time to restore their health and return to work. Toll free line available: 1.833.381.2725
Temporary Business Wage Subsidy - Effective immediately, eligible employers (non-profit organizations, charities, and certain Canadian Controlled Private Corporations) that pay remuneration to an employee, such as salary, wages, or taxable benefits, on or after March 18th and before June 20th, are permitted to reduce remittances of federal, provincial, or territorial income tax by the amount of the subsidy. Learn more here.
Registered Retirement Income Funds Minimum Withdrawal Amounts - targeted help by reducing required minimum withdrawals from Registered Retirement Income Funds by 25 per cent for 2020, in recognition of volatile market conditions.
Farm Credit Canada - Farm Credit Canada has received an enhancement to its capital base that will allow for an additional $5 billion in lending capacity.
Buyandsell.gc.ca - Businesses that can supply products and services to support Canada's efforts to prevent the spread of COVID-19 are urged to visit buyandsell.gc.ca.
GST Credit - The Government of Canada is proposing to provide a one-time special payment by early May 2020 through the Goods and Services Tax Credit. This will double the maximum annual GSTC payment amounts for the 2019-20 benefit year.
Canada Child Benefit - Provides additional assistance to families with children by temporarily boosting Canada Child Benefit payments. This measure would deliver almost $2 billion in extra support. 
Canada Student Loan Payments - To support student and apprentice loan borrowers during the COVID-19 pandemic, the Government of Canada has announced its plan to pause the repayment of Canada Student Loans and Canada Apprentice Loans until September 30, 2020.
Other
Facebook Small Business Grants Program - Facebook is offering $100 million in cash grants for small businesses affected by COVID-19.
Barterpay - Barterpay is offering small businesses solutions to their issues with cashflow through their online trading platform.
---
Niagara COVID-19 Business Impact Survey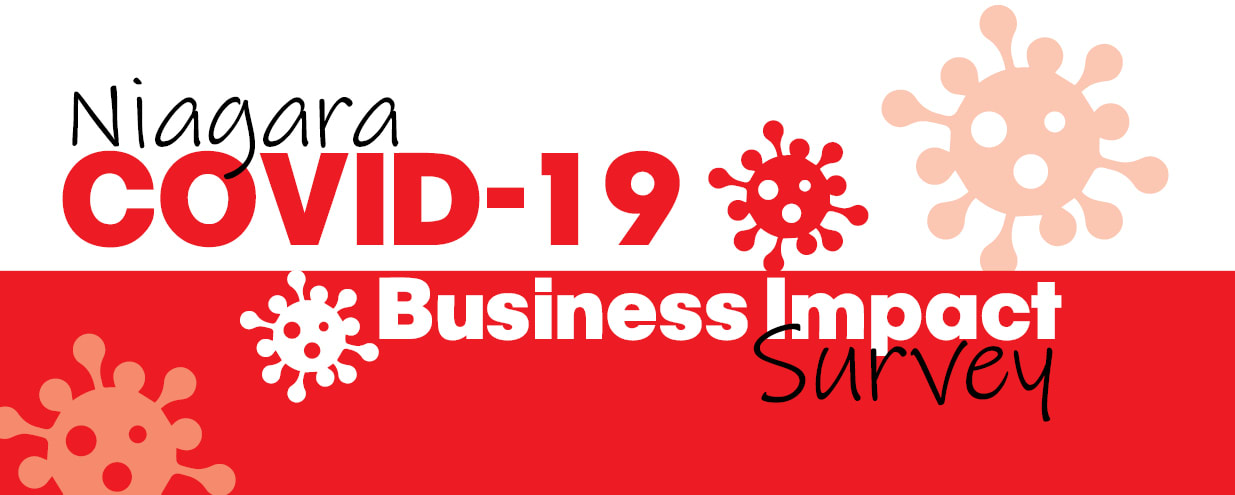 Thank you for completing the Niagara COVID-19 Business Impact Survey. The Niagara Niagara's Economic Rapid Response Team is reviewing the information you've submitted.
---
St. Catharines Rapid Response Team
Our Economic Development Team is working with Federal and Provincial government to find out more about how and when businesses will be able to access funding and advocating for a quick turnaround to get money to individuals and businesses. Businesses can reach our team at edceconomic@stcatharines.ca.
We continue to support our business community with the following initiatives:
Monitoring the situation and keeping you informed of any and all changes to the industry;
Observing and adjusting the marketing message in response to the changing situation;
Sustaining an active presence on social and digital platforms to share information with consumers about your state of business;
Collaborating with industry partners to design a strategy and ensure alignment of efforts; and
Continuing to provide exceptional service to ensure ongoing customer experience
We are also part of the the Niagara Economic Rapid Response Team, an effort by Niagara's Mayors and Regional Chair to support local businesses impacted by COVID-19. More details on this as well as supports for businesses can be found here.
---
Business Resources
FREE WEBINARS
The St. Catharines Digital Main Street Squad is offering free webinars to help small businesses cope with COVID-19.
Here are more resources to help your business cope with COVID-19:
How businesses can cope with COVID-19
With public health officials warning people to avoid large crowds to help reduce the spread of the coronavirus and COVID-19 businesses can expect to face some challenges as we work our way through this evolving situation.

Here is some advice from the St. Catharines Enterprise Centre that businesses can use to help adapt to this challenging situation.
Look after your employees
They are your biggest asset so it makes sense to support them in any way that you can and help them to navigate applications for employment insurance claims if required.


Review your health and safety protocols
Enhance already careful sanitizing and cleaning measures and increase frequency. Instruct staff to stay home if they have even minor symptoms (cough, fever, sore throat, or generally feeling unwell).


Communicate with your customers
Step up your communications with your customers. Keep them informed of any operational changes that you make, remind them of your hours of operation, and offer to help them. Be a trusted and helpful resource for your customers.


Check your financials
Have conversations with landlords, creditors, suppliers and others about what options are available.


Adapt
What adjustments can you make to adapt your services to the needs of your customers? Can you offer online shopping? Is free delivery or in-store / curbside pickup an option? Can you meet online instead of in person? Small changes can make a big difference and help keep your business going.

Gift cards are a great way for you to keep generating revenue now when volume is down and gives the customer something to use when regular business practises resume.


Watch your marketing
While it's important to adapt marketing campaigns to this ever-evolving situation, avoid unreasonable and unsustainable offers to attract immediate sales and customers for a short-term gain. It is still important to focus on the future and stay the course.

Participate in shop local and shop small campaigns such as #ShopSTC. Make an effort to support other small businesses. Can you make purchases from your neighbouring businesses? Can you offer sensible joint promotions?


Revisit your business plan
Use downtime to make your business better. Take a look at the things you've been putting off, such as improving your CRM system, updating your website and developing a far-reaching online ad campaign. Planning now means you'll be ready to go when things stabilize.
---
Contacts
City of St. Catharines
Citizens First, Monday to Friday, from 8:30 a.m. to 5 p.m.
www.stcatharines.ca
citizensfirst@stcatharines.ca
905.688.5600 
Alectra
Business Inquiries
1.833.253.2872
alectrautilities.com/AskUs
Province of Ontario
Stop the Spread Business Information Line
1.888.444.3659