Services For Startup Businesses
The St. Catharines Enterprise Centre (SCEC) provides the information, resources and tools that entrepreneurs need to launch and grow their startup businesses.
Contact the St. Catharines Enterprise Centre
If you're a motivated entrepreneur with a great idea, let the SCEC help you take that next step in making your dream a reality!
The Enterprise Centre is a unique partnership between Ontario's Ministry of Economic Development, Job Creation and Trade, and the City of St. Catharines' Economic Development and Tourism Services department (EDTS). The office is part of a network of over 47 similar Small Business Enterprise Centres including an office in Niagara Falls, and a wide variety of business support services.
The SCEC provides guidance and support to small business startups and is a proud community partner for Ontario's Summer Company and Starter Company Plus programs.
Located in the heart of Downtown St. Catharines, the SCEC works closely with entrepreneurs with the goal of helping more businesses start and succeed.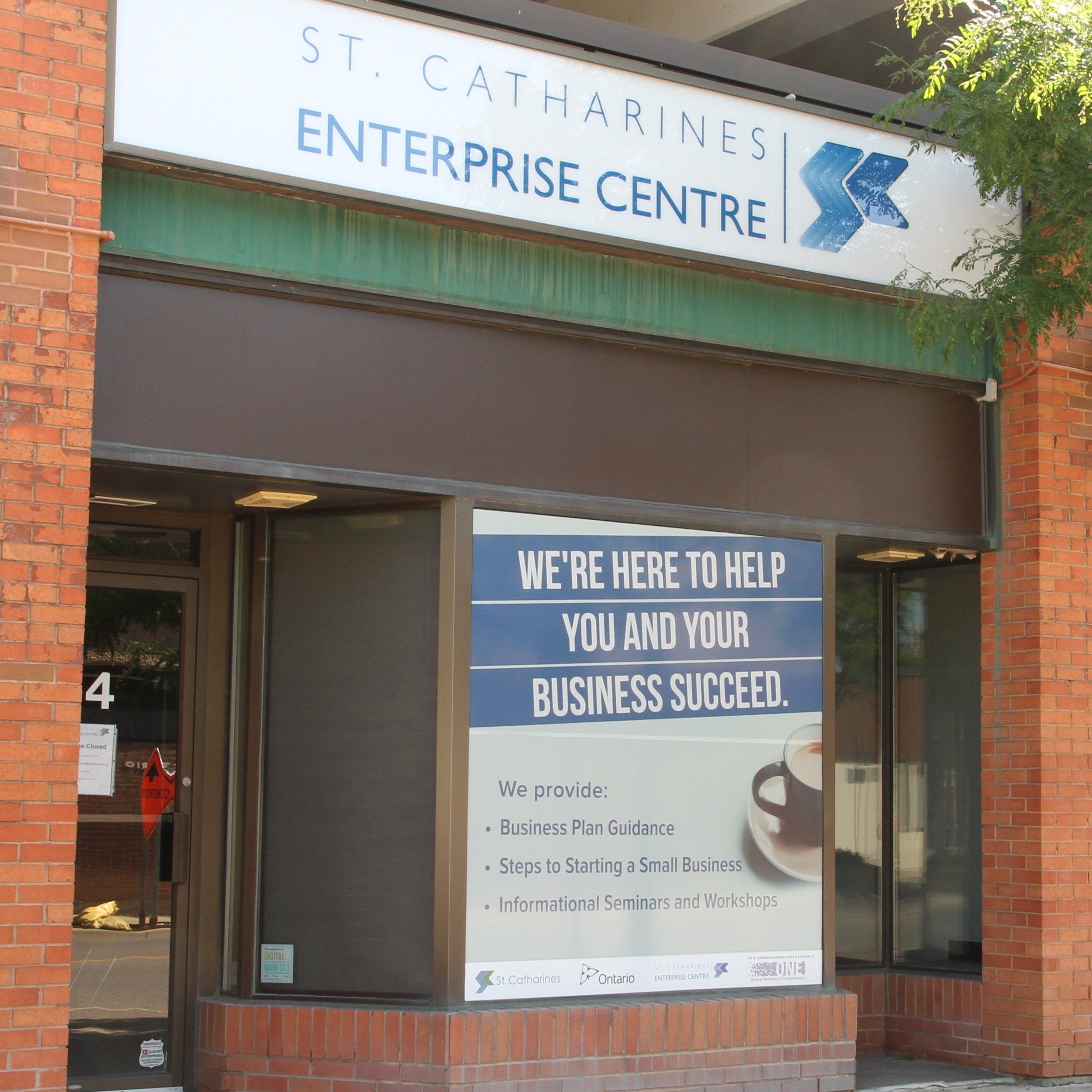 SCEC Support & Services
Steps to Starting a Small Business
Informational Seminars and Workshops
Business Plan Guidance
Marketing Plan Assistance
Networking Opportunities
Summer Company and Starter Company Plus Programs
Funding Information
Information on Permits and Licensing
One-on-One Consultations
To see even more services, visit the 
SCEC website.
Become a Client
SCEC clients typically start by attending our seminars and workshops. At these seminars and workshops they start to work with the SCEC team and enjoy networking opportunities with other aspiring business owners.

Once our clients have attended seminars, there is the opportunity for one to one consultations with the SCEC team. These consultations are often focused on business plan development and questions that may not have been covered.
Training and Seminars
Most of the seminars offered are FREE of charge, but some involve a nominal fee. Pre-registration is required. Seminars are subject to change. Please contact the office to confirm date, time and availability. Click here to view a list of upcoming webinars and to register.
Programs
Learn more about the programs offered by the St. Catharines Enterprise Centre 

Summer Company & Starter Company Plus

Summer Company

Summer Company is a program for youth who are in school and planning to start a business. The program includes business training, guidance from the SCEC, mentoring, and a grant of up to $3,000.

Applications for Summer Company are currently closed, but set to re-open in 2021.

Starter Company Plus

Starter Company Plus is a training and mentorship program for businesses less than one year in age or micro businesses ready to go full time. This program offers training in business planning, marketing, and financials.

Mentorship is available for eligible program participants and grants of up to $5,000 are available. Full eligibility will be discussed at an intake session with the SCEC.

Eligibility Includes:

Must be 18 years of age or older;
Prepared to commit to a minimum average of 35 hours per week to run the business;
Do not have full-time employment or studies outside of the business more than 12 hours per week;
Canadian Citizen or Permanent Resident;
Fully responsible for the on-going operation of the business and are the majority owner (50 per cent or more); and
Be able to show investment in the business of at least $1,250.


Business Eligibility:

The proposed business is a new start-up, less than one-year old, or a newly purchased business and:

is located in Niagara Region;
is an independent business venture;
is a legal business in Ontario;
operates at arms-length from family business ventures;
operates at full-time as defined in the business plan;
maintains its own books and records;
maintains a separate business bank account; and
follows all government rules and regulations and applicable by-laws for the operation of the business


Non-eligible businesses:

Franchises, commissioned sales and distributorships
Business ventures that are continuations of existing commercial endeavours
Not-for-profit, social enterprise, co-operatives or charitable enterprises
Multi-level marketing ventures
Single event such as musical ventures bands, DJs or dance/party event organizations
Businesses that are strictly pay-per-click and 1-900 number businesses or subscription models.


Application Process:

Asses your eligibility to participate in the program
Complete the intake form
Meet with SCEC to complete an intake meeting
If eligible, you will be asked to register for and attend a minimum of 12 hours of training
Develop a business plan with guidance from the SCEC

The complete application process will be discussed in an intake session with the SCEC. Those that successfully complete the training and meet all requirements will be invited to apply for the grant.


Program Requirements:

All training must be completed.
All documentation requested must be provided
Proof of personal contribution at least $1250
A business plan, start-up budget and financial forecast must be completed, to the satisfaction of the SCEC, before being considered by the Grant Committee.
Grant recipients will be required to participate in the program for a minimum of three months for additional mentoring, support and reporting.
An exit interview must be completed

Starter Company Plus is competitive in nature and there is no guarantee a grant will be awarded.

Full eligibility and program details will be discussed at an intake session with the SCEC.

This program is delivered by the SCEC and funded by the Ontario Ministry of Economic Development, Job Creation and Growth. There are a limited number of grants available.

Complete the Starter Company Plus Intake Form to get started. Once completed, save and send the form to enterprisecentre@stcatharines.ca

The SCEC reserves the right to disqualify any participant that, in its sole judgement, violates the spirit of the program and its guidelines, processes and rules. SCEC and its Grant Committee decisions are final.

The SCEC reserves the right to suspend, delay, modify or cancel these terms and conditions for any reasonable applicable law.

Please note:
All program participants will receive business training, however, not all will receive the grant/seed funding.

View Starter Company Plus information session dates here
Contact us to get started!
Discover Why St. Catharines Is Your Business Advantage
Contact our team of experts for a consultation today.