Services For Startup Businesses
The St. Catharines Enterprise Centre (SCEC) provides the information, resources and tools that entrepreneurs need to launch and grow their startup businesses, including free consultations with one of our experts.
---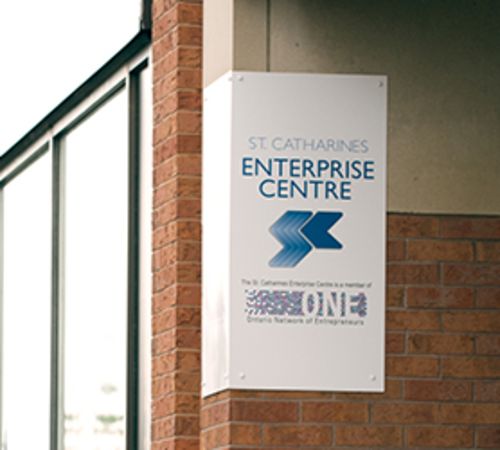 St. Catharines Enterprise Centre (SCEC)
If you're a motivated entrepreneur with a great idea, let the Enterprise Centre help you take that next step in making your dream a reality! Use the form on this page to get in touch with our team for your FREE consultation.
SCEC is a member of the Ontario Network of Entrepreneurs (ONE) and proud community partner for the Futurpreneur Canada Program (formerly Canada Youth Business Foundation), Summer Company program and Starter Company program.
Sharing a co-located office space in the heart of the city's downtown core, the Regional Innovation Centre known as Innovate Niagara and the Enterprise Centre provide a strong, united presence of the ONE network for clients in a growing area of the region.
The co-location and shared resources within this office allow the Enterprise Centre and Innovate Niagara to work very closely on programming to support clients and to expand the workshops and networking opportunities provided.
---
SCEC Support & Services
FREE one-on-one consultations
Training and seminars
Funding and grants
Business and financial planning
Market research and business feasibility
Permits & Licensing
---
To see even more services, visit the SCEC website, or contact us for your FREE consultation!
---
Ready To Get Started? Complete the form on this page to contact our team.