Agriculture, Food & Beverage Sector
City of St. Catharines is investing in Agriculture, Food & Beverage sectors taking into account that Foreign Direct Investment (FDI) in food manufacturing doubled in Canada between 2010 and 2015.

30% of St. Catharines' Designated Agricultural Area
The food and beverage segment offers substantial promise for St. Catharines, especially if well equipped incubation and acceleration spaces are available and if the linkages with tourism, culinary, cultural and the creative industries can be fostered.
Specialty and artisanal foods, craft brewing, micro-distilling and hard cider production are taking hold. College and university programs and facilities are vital assets in growing these niche markets.
Sector Info & Statistics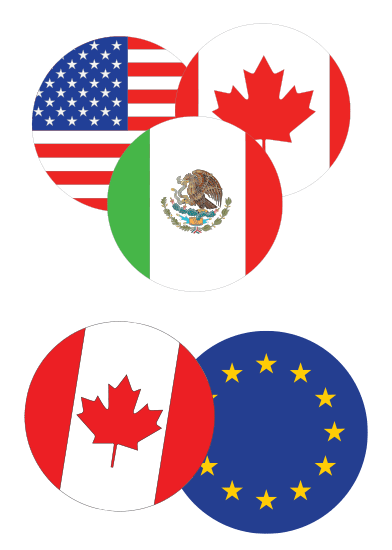 Trade & Economic Agreements
CETA & USMCA
The Comprehensive Economic and Trade Agreement (CETA) could position Canadian locations as preferred North American sites for European, Asian and U.S. firms doing business across the Atlantic.
Provided that the U.S. market remains open given changes to NAFTA, Canada may become a more attractive location for investment as a result of the country's openness to new Asian agreements and immigration policies.
Objective


Support the retention & growth of the agricultural sector

Grow and attract beverage and food processing facilities.
Action 1
Retain & strengthen
Retain and strengthen the presence of existing firms via the city's corporate calling program.
Action 2
Promote & encourage
Promote and encourage new ventures, expansions and new investment in food processing, bakeries and beverage production, including access to purpose-equipped incubation and acceleration spaces.
Action 3
Retain & grow
Support retention and growth of agricultural enterprises, notably the greenhouse horticulture sector, vineyards and fruit growers.
Action 4
Support
Partnerships
Support profile-building partnerships and opportunities for wineries located in St. Catharines, and further leverage the Downtown position on the Wine Route.
Action 5
Attract businesses
Attract businesses that manufacture and supply systems for greenhouses, horticulture & vineyards, seizing local research and partnership opportunities.
Action 6
Cooperate with government
Work in cooperation with the Ontario Ministry of Agriculture and Food (OMAFRA) where sources of funding may be available for specific initiatives.
Action 7
Cooperate with scientists
Work in cooperation with relevant Brock University and Niagara College institutes, as well as Vineland Research and Innovation Centre to identify opportunities in market and provide linkages.
Performance Metrics


Retention & Growth of the Agricultural, Food & Beverage Sector

BR&E calls & meetings
Food incubator outcomes & activities
Businesses retained
Expansion projects
New investments
Investment-related events
Contacts & leads generated
Agriculture, Food & Beverage Key Subsectors

Farms
Greenhouses
Wineries
Craft Beer
Specialty Food
Food Processors

Factoids

FARMS

84 farms
Farm receipts over $77 million

252 full-time jobs
78 part-time
466 seasonal

GREENHOUSES

23 greenhouses
17 employed greenhouse automation:

seeding
transplanting
irrigation, etc.

WINERIES

7 wineries within City boundaries
Wine Route passes through Downtown, the hub to Niagara's 3 wine regions

CRAFT BEER & BEVERAGE

7 craft breweries within city boundaries
2 distilleries
Domestic beer sales were up by 2.5% in 2020
Synergies with Niagara College Teaching Brewery and Brock University research institutes

SPECIALTY FOODS

Fast growing niche market for natural, organic, nutrient dense foods
"100 mile" status a growing trend favouring artisan food production

FOOD PROCESSORS

Opportunity to target Toronto food processors facing facility constraints and high cost barriers to growth
FTA location advantages
Food Incubator concept
Discover Why St. Catharines Is Your Business Advantage
Contact our team of experts for a consultation today.