The St. Catharines Business Advantage

From a growing digital media hub to a thriving arts community, investors are jumping at the chance to be involved in the growth and prosperity of St. Catharines.
Did You Know?
Since 2013, our downtown alone has seen over 100,000 square feet of commercial space fill up, along with over $200 million worth of investment in new residential developments.
People are coming to downtown St. Catharines not only to work but also live and thrive.
Accessibility
St. Catharines is Niagara's largest city and is home to 30 per cent (136,803) of the region's population. Just 111 kilometres from Toronto and 19 kilometres from the United States border, the major urban centres located within a 160 kilometre radius of St. Catharines contain approximately 10 million people.
Access to Transit
St. Catharines is easily accessed by GO Transit, daily bus service and seasonal train service between Niagara and the Greater Toronto Area. Provincial plans to expand daily GO Service to Niagara will make St. Catharines an even more desirable location.
Access to Government Funding
There is also a variety of government incentives and financing programs available for businesses at the municipal, provincial and federal levels of government in addition to private institutions as well.
Investment in the City
As Niagara's business hub, St. Catharines has seen an unprecedented level of activity in its downtown, with over $300 million invested in projects that have changed the face of the city for generations to come. This activity has spurred private investment and garnered interest in our downtown's revitalization at both a local and national level, inspiring creative new entrepreneurs to open new businesses while catching the attention of investors from across the country and beyond.
Financing Opportunities
Ranging from start-up and growth financing, research and development, training and employment, and energy efficiency programs, we can help connect you with the right opportunity to access funding for your business.
Economic Incentives
Considering the economy of the location you choose for your business is of upmost importance to your success.
St. Catharines has some of the most affordable property tax rates for businesses and competitive hydro costs that help keep the price of doing business low.
Urban Growth Centre
Downtown St. Catharines has also been identified in the Ontario Government's growth plans as an Urban Growth Centre.
As the only city in Niagara with this designation, it is the focus of investment in regional services including commercial, recreational, cultural, as well as transit infrastructure to accommodate significant population and employment growth.
Expanding Digital Hub
Downtown St. Catharines has earned a reputation as one of Ontario's key digital media hubs and has attracted an impressive collection of digital and interactive media business.
Thriving Arts Community
Downtown St. Catharines has a fast growing arts community spurring the continued investment and revitalization of the downtown area.
The Globe And Mail article: 'How the arts are redrawing downtown St. Catharines' says it all.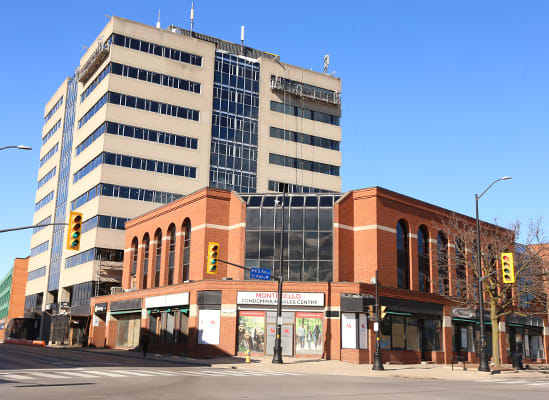 Downtown Development Initiatives
Innovate Niagara, Niagara's Interactive Media Incubator
Two-way traffic conversion
Renovation of Ministry of Transportation Building
FirstOntario Performing Arts Centre
Brock University Marilyn I. Walker School of Fine and Performing Arts
5,000-seat Meridian Centre spectator facility
Carlisle Street Parking Garage
80 King Street refurbishment/upgrades
Penn Terra Group residential developments, The Wellington Condominium and Regent Student Living
Download our Downtown Profile
Discover Why St. Catharines Is Your Business Advantage
Contact our team of experts for a consultation today.